Laura Albornoz Pollmann
Nonresident Senior Fellow, Adrienne Arsht Latin America Center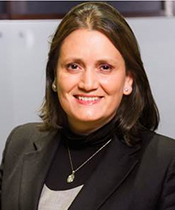 Expertise
{expertsdata}
---
Read Full Bio
[module-1609 style=xhtml]
Full Bio
Laura Albornoz Pollmann, a nonresident senior fellow at the Adrienne Arsht Latin America Center, is the director of the Corporación Nacional del Cobre de Chile (Codelco) and professor of the Department of Private Law, Faculty of Law, of the University of Chile. In the first government of President Bachelet she was minister of the National Women's Service, and between 2008 and 2009 she was the president of the Inter-American Commission of Women of the Organization of American States.
From September 2009 to September 2010, she served as envoy to the project "Pathways to Prosperity," promoted by then Secretary of State of the United States Hillary Clinton. In January 2010 she was appointed as advisor to President of the Republic Michelle Bachelet and after the earthquake in February 2010, she took over as presidential delegate during the catastrophic situation that the country lived.
Since May of the same year, she has worked in community reconstruction projects of the Foundation Dialoga in the communes of the region VII in Chile. At the time of her appointment as director of Codelco, she served as associate expert for the gender network of the United Nations Development Program for Latin America and the Caribbean.
Highlights in her career include her participation in the promotion and approval of numerous legal initiatives in Chile, designed to protect, ensure and promote the human rights of women. From September 2010 to May 9, 2014 she was National Vice President of the Christian Democratic Party of Chile.