CORONAVIRUS ALERT 3/26/2020
The Atlantic Council's Coronavirus Alert is a regular summary of policy, economic, and business events around the emergency. To stay updated, sign up to the Coronavirus Alert here.
Summary:
The World Health Organization (WHO) rebuked governments worldwide for squandering an opportunity to check the spread of coronavirus. Deaths in the United States topped 1,000 after the biggest daily increase in fatalities, while claims for unemployment reached a record high, figures likened to indicate an "instant Great Recession."
Statistics:
There are now approaching 500,000 cases worldwide in 175 countries and territories; more than 20,000 people have died.
QUOTE: "We squandered the first window of opportunity," said WHO Director-General Tedros Adhanom Ghebreyesus, Bloomberg reported. "The time to act was actually more than a month ago or two months ago."
HEALTH AND SCIENCE:
QUOTE: "I'd like to see all hospital administrators, CEOs, CFOs climb down from their ivory towers and be told to walk through their hospitals, emergency rooms and everywhere," said Heather Riebel, a pediatric cardiologist in San Antonio, The Washington Post reported. "Let's see what type of personal protective equipment they would want."
FINANCE AND ECONOMICS:
QUOTE: "We haven't seen this big of a free fall before," said Keith Hall, former director of the Congressional Budget Office and adviser to President George W Bush, The Wall Street Journal reported. "Not even during the Depression…It's really like an instant Great Recession."
BUSINESS AND TRAVEL:
QUOTE: "It takes your breath away," said Justin Hoogendoorn, head of fixed income strategy and analytics, Piper Sandler, Chicago, Reuters reported. "Obviously the immediate reaction to something like that is going to be fear, especially when (jobless claims) were just about double what economists were even predicting, thinking dire scenarios."
RESOURCES
From the Atlantic Council:

Wed, Mar 25, 2020
While the A(H1N1) and novel coronavirus (COVID-19) crises are different in magnitude and were caused by viruses with different levels of lethality, Mexico's experience with the A(H1N1) can offer valuable lessons for current disruptions.
New Atlanticist by Pablo Reynoso Brito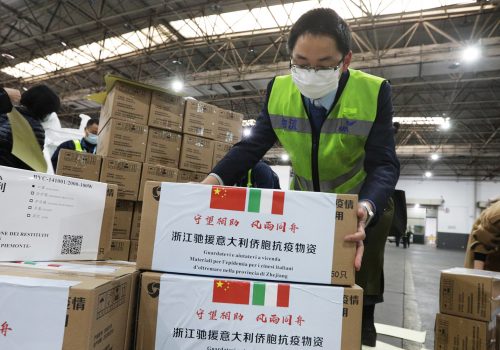 Wed, Mar 25, 2020
With European countries still in the midst of the crisis or anxiously waiting to be hit, it is too soon to tell which narrative will win out in Europe—that of a generous China, whose systems managed to combat the virus, or that of an authoritarian regime, whose initial efforts to cover up the extent of the crisis cost the world valuable preparation time.
New Atlanticist by Atlantic Council

Wed, Mar 25, 2020
The precipitous decline in oil prices related to the coronavirus pandemic will have significant economic knock-on effects in Africa. Central African producers look to be the most vulnerable, but the shocks will be felt everywhere.
AfricaSource by Luke Tyburski